John Jota Leaños
Professor of Film & Digital Media (2020-24)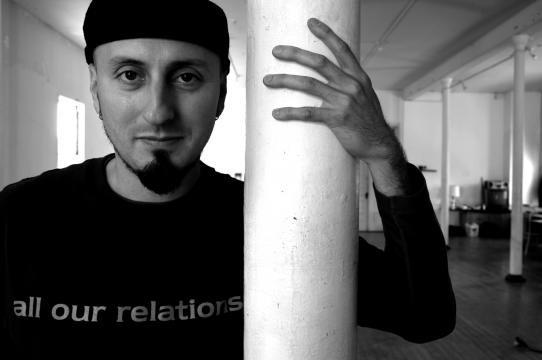 John Jota Leaños is a Mestizo (Xicano-Italian-Chumash) interdisciplinary artist and animator concerned with the embattled terrains of history and memory as they relate to nation, power, and decolonization. A Professor of Film and Digital Media at UCSC, Leaños teaches courses on Chicanx and Indigenous cinema/media, sci-fi & speculative fictions, documentary animation, documentary video, street art, and new media. His practice includes a range of film, animation, public art, installation, new media, and performance focusing on the convergence of memory, social space, and decolonization. Central to Leaños' art practice and cultural work lies the investigation of the documentary as a transformative discursive system where subaltern histories, untold stories, and decolonial perspectives arise in fictional and non-fictional forms. His research explores the slippery slope of the documentary within the discursive spaces of the public sphere, media outlets, the virtual sphere, the museum, and the gallery.
A Guggenheim Fellow in Film and Media, Creative Capital Artist, and United States Artist (USArtist) Fellow, Leaños's practice includes a range of media arts, documentary animation, video, public art, installation, opera, and performance.
ARI Supported Project:
The "de la Riva Family Digital Herstory Project" gathers scholars, archivists, artists, students, and community for a two-week research intensive to document, preserve, and make available a rich history of queer, femme, and art-centered social justice work in Northern California. This is an arts research and digital preservation project focusing on films, interviews, and historical materials in the de la Riva family archive in partnership with UCSC Professor, John Jota Leaños, UT Austin Professor María Cotera, UCSC Head of Special Collections, Teresa Mora and artist Osa de la RIva.
ARI Faculty Fellowship Project: ¡Eureka! is a series of animated musical documentaries that trace critical moments of colonial California and the making of the West from Native and Latinx perspectives. The Gold Rush and the California Missions remain defining markers of California's mythology and define it as a place of opportunity, ingenuity, diversity, and wealth. However, the California borderlands have been marred by colonial violence, social traumas, and environmental abuses that continue today, spanning nearly seven generations. ¡Eureka! weaves an alternative social history of California, documenting the historical slippages of the Spanish and American colonial projects through music, cartoons, humor, and song.
Visit site